Applications
Accumulation Conveyor Systems
Dorner's accumulation conveyors can ensure a steady supply of product to a machine or to hold a supply of product when a machine stops. Our accumulation conveyors are designed to satisfy the needs of our customers requiring a solution for handling overflow, buffering items, merging lines and more.
To create accumulation conveyors, low-friction belting, made of either urethane or modular plastic chain, is needed. Your particular application needs and products determine the best choice for your business.
When in-line accumulation conveyors do not offer enough product accumulation space, Dorner has designed accumulation conveyors, often referred to as accumulation tables, using multiple belts within the same frame to provide additional accumulation space.
View a Dorner Accumulation Conveyor in Action
Custom Accumulation Conveyors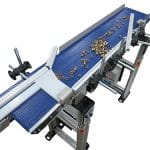 If your business requires a custom conveyor system, know that Dorner has earned a sterling reputation for its custom solutions. These custom conveyors are designed for customers desiring to achieve optimal efficiency and productivity in their businesses.
Dorner's accumulation conveyors are custom-built for each customers' application. By using standard products and modifying them to meet product size, type and production rates, we can create a completely custom accumulation solution that helps increase your productivity.
Accumulation Conveyor Applications
Accumulation conveyors are used for several kinds of applications. These applications include containing overflow and buffering items until a machine or operator downstream is ready to receive them.
Accumulation conveyors are also used in merging multiple item lines into a single stream. They can smooth out fluctuations in product line rates as well as singulate products on outfeed and control outfeed rate.
What Are Accumulation Conveyors?
Quite simply, accumulation conveyors are designed to manage products for specific purposes, including controlling overflow and providing buffers.
Accumulation conveyors are often seen as the ideal conveyor solution when items from multiple lines must be merged into a unified line and to even out product line rate variations. In many manufacturing facilities and warehouses, accumulation conveyors are also used to provide item singulation. This means that a conveyor can allow one row of product on outfeed.
Types of Accumulation Conveyors
Accumulation conveyors are broken into two broad categories: accumulation conveyors and accumulation tables.
Accumulation Tables
Accumulation tables are a kind of accumulation conveyor. Accumulation tables come in three varieties: rotary accumulation tables, recirculating conveyors and single low back-pressure conveyors.
Rotary Accumulation Tables
Rotary accumulation tables are used for accumulating and unscrambling product as well as containing overflow. These kinds of conveyors are usually used when working with round containers or bottles that can be discharged in a single-file line or manually removed.
A key benefit of rotary accumulation tables is that they feature a small footprint compared with many other kinds of accumulation conveyors. This makes rotary accumulation tables an ideal choice for facilities with space limitations.
In one application, Dorner designed and built a custom rotating accumulation table to hold small runs of bottles that are then unloaded by hand. Dorner manufactured a pair of systems that were integrated into the customer's injection molding machine discharge areas.
In this customer's application, Dorner created a pivoting knuckle to allow for ± 10 degrees of adjustment. Additionally, we built a quick-adjust pillar stand to help enable swift changeover between different bottle sizes. These custom solutions enable the conveyor infeed height to be fine-tuned with a simple hand crank.
Recirculating Conveyors
Recirculating conveyors offer a solution to business' manufacturing challenges by enabling product lines to keep pace with machine outputs. These conveyors have belts running in opposite directions to keep products recirculating. This solution features in-line accumulation and, as with almost all Dorner's accumulation conveyors, is custom-designed to fit specific our customers' needs based on product weight, shape, material, speed requirements and other factors.
Along a manufacturing line, products may back up in different places, triggering slowdowns, backups and even causing the whole line to shut down. Recirculating conveyors can help prevent having to stop a line or redirect products by creating a space to accumulate products and manage flow to the next process.
These conveyors are favored for use with delicate products because back pressure is minimized, helping decrease the incidence rate of damaged and broken products. They're also used heavily in industrial and food environments.
Best of all, these recirculating systems may run unattended and require no electronic controls.
Recirculating tables are constructed by placing two or more conveyors adjacent to one another. These conveyors' belts move in opposite directions, allowing for a continuous item flow.
Dorner can design your recirculating conveyor to move products to a singular line or accumulate products.
Watch a Dorner Recirculating Conveyor Move Product
In this application, Dorner built a recirculating conveyor to help a customer move small parts into a single-file line so that a robot could pick up the individual parts and transport them to the next machine. A recirculating conveyor was utilized in this case because it enables items to accumulate while reducing back pressure and product damage. This kind of conveyor can also help prevent items from becoming jammed along the conveyor.
Single Low Back-Pressure Conveyors
Single low back-pressure conveyors are used in applications in which products accumulate on a single low-friction belt. This kind of solution can help keep items from tipping forward or falling down.
View a Dorner Low Back-Pressure Conveyor with Powered Side Guide
In this application, Dorner created a solution involving several transfers from conveyors and other equipment for a customer that needed to convey small plastic bottles. A Dorner FlexMove Conveyor, was utilized as the mainline unit, with a 2200 Series Belted conveyor with a high friction belt as a guide. A back-pressure conveyor decreases the risk of transferring bottles from falling forward and on their sides.
Moreover, this particular application featured several power transfers to help in the small product transfer, an accumulation conveyor at the end of the line with a manual packing operation, and a pneumatically operated merging setup.
Accumulation Conveyors
Accumulation conveyors include alpine and helix conveyors, which utilize special configurations that can make the best use of space in facilities short on available space.
Alpine and Helix Conveyors
Alpine conveyors are compact conveyors with a spiral configuration. These conveyor types make excellent use of vertical space to contain items, creating a smaller footprint. These conveyors are especially valuable in facilities where space is at an absolute premium.
Alpine conveyors are used as an accumulation or elevating buffer zone between different machines. They're also used for drying, cooling and curing purposes. Alpine conveyors can move product at different levels and create downstream product flow, avoiding bottlenecks in your facility's processes. These conveyors are used in applications in which product needs more time for processing or testing and in which product needs to be cycled, batched or stored while another product is being dispatched.
Alpine conveyors are set up as an elevating or lowering system featuring a single or double serpentine configuration. These conveyors can serve as an in-line accumulator whose entry and exit points are positioned at different levels or with these points on the same level.
Alpine conveyors present businesses with the option of adding more levels when additional capacity is needed. They also decrease the impact of machinery failures, enabling the accumulation of items from a machine with the nest machine is fine-tuned or repaired.
Helix conveyors, meanwhile, are compact flexible-chain units featuring spiral and helical curves. Their flexible design offers a wealth of layout opportunities, with infeed and outfeed able to be positioned at any height or angle. Custom infeed and outfeed lengths enable helix conveyors to extend beyond spiral, cutting back on the number of units required.
Helix conveyors' minimal footprint makes them prized in space-challenged facilities. Their side roller chain decreases friction along corners, creating for smoother product handling and faster speeds. These conveyors are used in accumulation, buffering, cooling and other applications.
See a Dorner FlexMove Helix Conveyor Move Product Quickly
Material Handling Conveyor Aftermarket Support
Beyond providing our customers with exceptionally built accumulator conveyors and other conveyor solutions, Dorner offers parts and services, service videos and more as part of its aftermarket support. Our installation and training services along with our maintenance program can help keep your equipment running optimally.
Accumulation Conveyor Installation Services
Dorner is proud to offer top-to-bottom accumulation conveyor installation services. With the Dorner team in charge of installing your accumulation conveyor, your business will save money and time compared with spearheading the installation process by yourself.
Dorner's proficient engineers can ensure your business experiences an efficient startup of your new equipment. With our accumulation conveyor installation services, you'll receive delivery, staging, setup and debugging and maintenance training.
You can be sure your accumulation conveyor solution will be installed correctly and quickly. After very little installation time, your business will reap the benefits of a conveyor designed for peak performance, getting your production line running better than ever before.
Accumulation Conveyor Training Services
Paired with Dorner's installation services are our accumulation conveyor training services. Our team of field and service professionals can provide skilled guidance, helping your employees feel knowledgeable about and comfortable with our equipment.
Your staff will benefit from a solid understanding of how to use your accumulation conveyor safely and with confidence. Your business will gain from your employees' being able to use this new equipment at peak efficiency and productivity.
Dorner's accumulation conveyor training services are available for a fee.
Accumulation Conveyor Maintenance Program
Dorner's accumulation conveyors maintenance program can help ensure your equipment remains in exceptional working order, giving you an extraordinary level performance and dependability. With our maintenance program, your business will get an initial visit on site at no cost to identify your needs. You'll also receive a proposal for labor service or labor service with parts and a belt inspection and adjustment.
Additionally, as part of Dorner's maintenance program, we apply lubrication to our customers' conveyors. We also inspect worn belts, pulleys, bearings, drive train, gearmotors and accessories, providing installation of new parts as needed.
Our training services carry over into our accumulation conveyor maintenance program, with your employees receiving training on conveyor belt tracking and tensioning. Finally, your business will receive a parts audit and 10 percent discount on parts ordered through our maintenance program.